Kepentingan Amalan Kebersihan Bagi Pencegahan COVID-19
past
Panel:
Dr. Siti Khadijah bt. Ahmad Tajuddin (Ketua Penolong Pengarah Kanan)
Dr. Mohd Asyraf bin Jamilol Nasir (Pegawai Perubatan)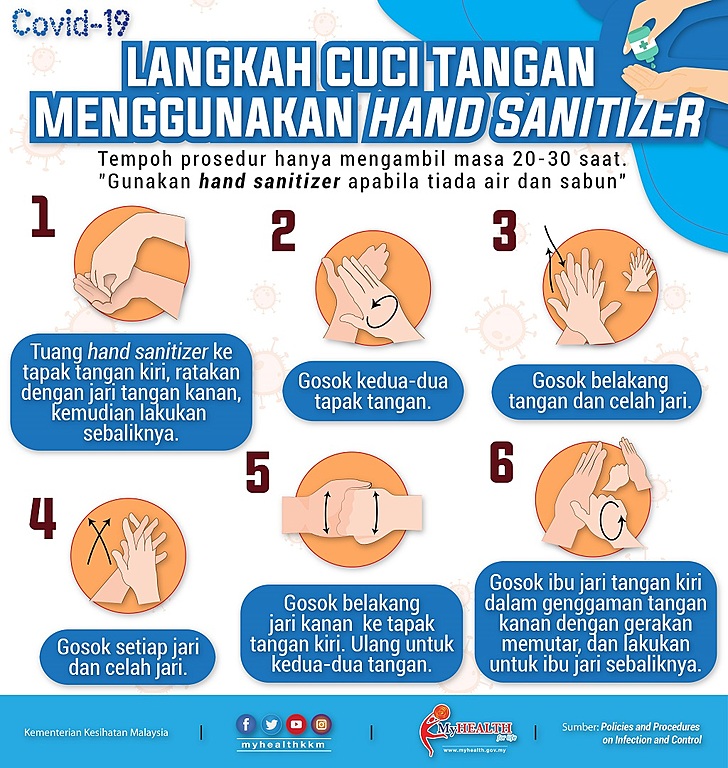 Comments
Sharon W: May I know dettol can kill covid 19 virus if I soak the cloths into it.
Ruth M: Hi Dr. Is it possible for someone who have been cured the from Covid-19 virus to be infected again?
Shikin M: adakah perlu kita sanitasi barangan yang diterima apabila kita pesan melalui online.
Murugan K: Hi Doc. I just saw the TV show Hot Zone last night. They seem to use bleach to disinfect the Ebola virus. Can we wash everything with bleach including our hands since covid19 is less scary than Ebola?
Amira N: How to know when it is safe to discontinue home isolation/quarantine?
Nadia B: kenapa kah ada diantara individu yg positif tidak menunjuk kan sebarang simptom.. adakah kerana meraka mempunyai antibodi yang kuat utk melawan virus tersebut..?
Fazliyana R: Hi, Dr. I want to ask how effective wash hand compare sanitize hand?
Bee Kuan P: Many countries such as Singapore and Korea are actively screening suspected cases now. For instant, Korea government offers drive through screening test for it's citizens. Is our government introducing this soon since positive and death cases are on the rise?
Norli S: Dr. how many test that i need to do to really confirm that i am free from the virus?
Charles C: Hi Dr. Thanks for doing this. Is there a difference between doing a test in the private sector vs the gov. sector?
Azrul M: Selamat petang Doktor. Perlukan saya pakai mask jika saya keluar membeli makanan? Saya xde gejala sekarang
Chris T: apa makanan haruslah kita makan untuk pencegahan covid?
Junnie P: How many minutes of exercise at home are we recommend to do everyday?
*Limited number of users are allowed to comment for each webinar session
Please click on the
link
to give your feedback.